CureLift S: The New Minimally-Invasive Mini Facelift
The Curelift S was developed by WAVE Plastic Surgery to provide our patients with a procedure that combines the age-reversing effects of a SMAS Facelift with the quick recovery of a Mini Facelift.  The result is a minimally-invasive procedure that restores a person's facial features to a more youthful position. 
Created by WAVE's own Dr. Ben Lee, the Curelift S offers our patients natural-looking results with minimal bruising and swelling.   The CureLift S is exclusively available at WAVE Plastic Surgery and is a highly effective alternative to traditional facelifts.  Contact us today to find out if the Cure Lift S is the anti-aging procedure you've been looking for.
A Better Facelift with WAVE
The facelift is one of the signature procedures in plastic surgery, yet also one of the most controversial. The ability to take years off of one's appearance is appealing, but there is a perception that the recovery is difficult and that it can result in a distorted, overly tight appearance.
In response to this, plastic surgeons have developed techniques that result in a more natural appearance. These newer techniques have been around for decades and rely on moving deeper anatomic structures back to where they used to be rather than on pulling on the skin alone. This is based on the realization that a surgeon can pull on the skin as hard as they choose, but it can never create a more natural-appearing, more youthful appearance.
In the early 1970's a facial layer known as the SMAS, a fibrofatty tissue that is closely associated with the facial muscles, was described. Surgeons soon learned that by tightening this layer, a more natural and long-lasting result could be obtained. There were several evolutions of SMAS lifting techniques, from limited SMAS plication to the highest evolution, the high SMAS lift. The latter involves the careful elevation of the SMAS with a division of the retaining ligaments that adhere it to the underlying bony structures. This is a difficult dissection with critical nerves and blood vessels nearby and is therefore a type of facelift that should only be attempted by the most skilled of facelift surgeons.
The effort is worth it as it results in the most complete mobilization and repositioning of the aging facial structures. Because it is so comprehensive, however, the recovery can be extensive. The Curelift S is Dr. Ben Lee's personal evolution of the SMAS facelift, one that combines his experience performing the high SMAS technique and the lateral SMASectomy, two of the more popular advanced techniques. It is a limited incision facelift that requires less dissection than the high SMAS lift, yet allows more lifting along the jawline.
Because there is less dissection of the SMAS, there is theoretically less bleeding, and therefore less bruising and swelling. This usually results in less healing time than the traditional facelift. The procedure can be performed under general anesthesia or better yet, with IV sedation and local anesthesia. Patients can often be presentable in public in 7-10 days.
The Benefits of our CureLift S Mini Facelift
Our Satisfied Customer Testimonials
BRANDY C., LOS ALAMITOS, CA
"The staff was so kind and helpful and made me feel so comfortable during my treatment. I was afraid to come to a new place but they were so welcoming and friendly. They explained all of my options perfectly. I couldn't be happier with my results."
TEENA B., OAKLAND, CA
"WAVE is the most awesome of all! From the friendly and caring staff to the qualified surgeons and nurse practitioners, I am always in good hands."
HOÀI T., OXNARD, CA
"I'm always satisfied with the excellent service and the attentive care Dr. Lee and his staff provide. I'm a long time patient at WAVE and I wouldn't want to go anywhere else. I would highly recommend WAVE because you will be very well taken care of; Dr. Lee and his teams of professionals are the best in the field."
FRANCIS Y., BELLEVUE, WA
"Surgery went really good. Everyone was so nice and kind. I am very satisfied with the results."
ELENA M., LOS ANGELES, CA
"He did such a great job! Made me feel comfortable and confident about my choice. If you plan to have any surgery done I highly recommend Wave and Dr Ben Lee. He's absolutely the best, experienced and has great bed side manners and personality."
Our CureLift S Specialist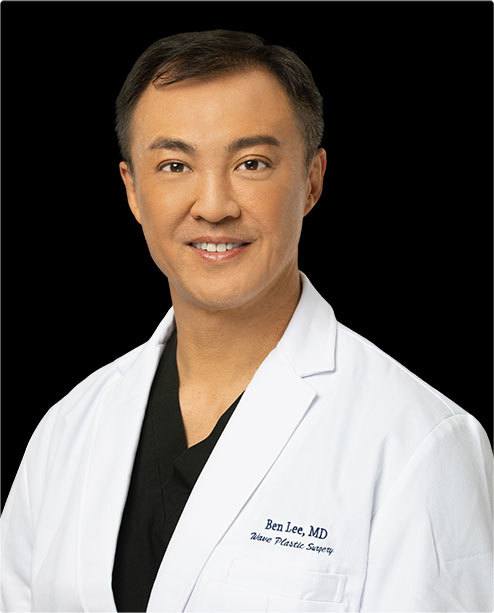 Throughout 20+ years in aesthetic plastic surgery, Dr. Ben Lee has always been passionate about using his skills to impart a lasting, positive impact on the lives of his patients.
"Time and time again, I have witnessed dramatic improvements in a patient's confidence and well-being after a relatively minor cosmetic or reconstructive procedure. As a surgeon, that brings me great joy." — Dr. Ben Lee
Get Your Consultation Today
Give us a call today to schedule a consultation with one of the plastic surgery experts at Wave Plastic Surgery to learn more about the procedure and the thread face lift cost.
Subscribe to Receive Exclusive Email Specials
Related Services You May Be Interested In
Restore volume and target wrinkles with non-surgical fillers and injectables.  Neuromodulators like Botox, Jeuveau, and Dysport can transform your appearance in incredible ways by smoothing fine lines and wrinkles.
The lower eyelid is one of the first places to show the signs of aging.  Lower eyelid surgery is used to treat wrinkles, dark circles, and bags beneath the eyelid.
Restore youthful volume and shape, smoothing away facial lines and wrinkles in a minimally invasive procedure. By taking your own natural fat from places of excess, you can renew youth to the eyes, cheeks, and forehead.
FaceTite and NeckTite are non-surgical procedures that delivers radio-frequency energy deep into the skin. This treatment firms and tightens the skin, stimulates collagen production, and reduces the signs of aging.
Advancements in ultrasound technology allow us to lift and tighten your face for a younger look without the need for surgery. Ultherapy is a new, non-surgical procedure that is called a non-invasive facelift.