Globally Renowned Anti-Aging Experts
BodyTite in Los Angeles, Orange County and San Francisco
Patients love the tightening and sculpting effects from BodyTite! This exciting and innovative, minimally-invasive treatment uses the power of radiofrequency energy to deliver some amazing results.
BodyTite is a highly effective and safe procedure that uses radiofrequency to essentially melt fat through radiofrequency-assisted lipolysis (RFAL).
RFAL is achieved by inserting an electrode on the BodyTite machine into the treatment area. RF energy is that passed between the internal electrode (that is inserted in the skin) and an additional electrode that sits on the surface of the skin.
This procedure is safe, and patients are kept comfortable the entire time. Before the electrodes are inserted the patient will receive a tumescent injection which not only numbs but also ensures optimal results from the procedure.
Treatment time is relatively quick (about 30-45 mins) but will vary based on the number of treatment areas. Results are typically seen in about three months and will continue to get better over time.
BodyTite is quickly becoming a very popular procedure at WAVE. Here are some of the reasons that our patients love BodyTite:
BodyTite can be safely used throughout the body. Some of the most popular treatment areas include:
Is BodyTite right for you?
BodyTite isn't for everyone, and it is important to remember that BodyTite isn't a weight loss solution.
For patients with excessive skin laxity, it might be best to consider another treatment at WAVE. However, for those patients that desire to tighten their skin after the birth of a child, weight loss, or even due to aging, BodyTite is a very effective treatment.
If you are looking for an alternative to surgery or a way to enhance your results from another procedure (such as liposuction) BodyTite is a wonderful choice.
We encourage you to schedule a consultation with WAVE's expert staff. We'll answer your questions and show you what treatment options are available to you.
Get Your Consultation Today
Give us a call today to schedule a consultation with one of the plastic surgery experts at Wave Plastic Surgery.
Subscribe to Receive Exclusive Email Specials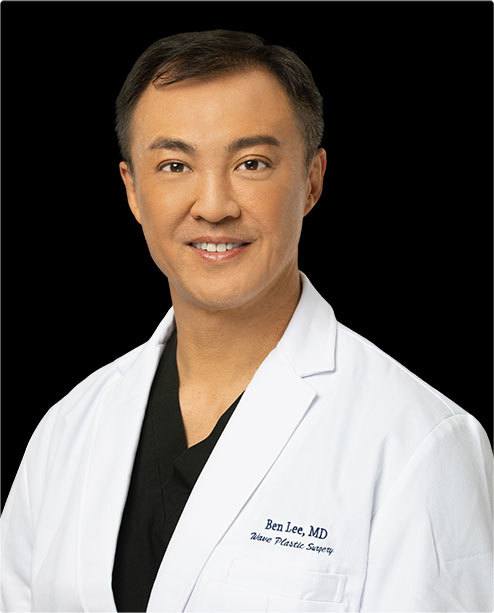 Throughout 20+ years in aesthetic plastic surgery, Dr. Ben Lee has always been passionate about using his skills to impart a lasting, positive impact on the lives of his patients.
"Time and time again, I have witnessed dramatic improvements in a patient's confidence and well-being after a relatively minor cosmetic or reconstructive procedure. As a surgeon, that brings me great joy." — Dr. Ben Lee
Completely remodel your body without going under the knife. Evolve by Inmode has combined multiple technologies into one device, allowing us to tighten skin and melt subdermal fat across the body simultaneously.
Whatever stage you're at with your weight, Wave Plastic Surgery has a place for you to start your weight loss journey. Check out our weight loss page to learn more. 
Many men and women struggle with problem fat, even when they go to the gym and eat healthy. At Wave Plastic Surgery, we offer our patients MediEssence™, a proven system designed to help you lose the problem fat and achieve your ideal self.