Globally Renowned Anti-Aging Experts
Brazilian Butt Lift in Los Angeles, Orange County and San Francisco
Over the past few years, the Brazilian Butt Lift (BBL) has become an extremely popular cosmetic plastic surgery procedure. After all, the idea of taking annoying excess fat from one area of your body to enhance and reshape your backside is hard for many not to be excited about.
In today's culture, having a round and firm buttocks is the goal of many women, but some are simply unable to achieve the shape they want. A Brazilian Butt Lift with our Los Angeles plastic surgeons can help you to feel more confident in anything from a bikini to a pair of jeans.
What Is a Brazilian Butt Lift?
The Brazilian Butt Lift is a type of buttock augmentation procedure that uses your body's own fat, rather than silicone implants, to enhance the shape and size of your buttocks. To do this, one of our plastic surgeons at Wave Plastic Surgery will take unwanted fat cells from other areas of your body, such as your back, thighs, or abdomen. Liposuction is used to remove these fat cells so they can be prepared for injection into your buttocks. Because the procedure uses your body's own existing tissue, the procedure is safe and has been known to provide very natural-looking results.
One of our doctors will then carefully perform the fat transfer by injecting the harvested fat cells into the buttock area to enhance its shape and size. During your consultation, your expectations and goals will be discussed in order for us to understand what it is you are looking to achieve and how to provide you with the best results possible.
Ideal Candidates for BBL Surgery
Not everyone is right for a Brazilian Butt Lift, and others may require implants in addition to their fat transfer to achieve their desired shape. Those lacking excess fat may not have enough donor fatty tissue for the transfer procedure. Many patients are able to achieve their best results from combining gluteal implants with their Brazilian Butt Lift.
Ideal candidates for Fat Transfer BBL Surgery will be people who are dissatisfied with the appearance of their lower body.  Many people opt for BBL surgery to help them look better in clothing or boost their self-confidence.  The main benefits of  Brazilian Butt Lift Surgery include:
Enhancing size and shape of the buttocks
Removing excess fat
Lifting the lower buttock
Slimming and contouring the body shape
If you are dissatisfied with the results of relying on diet and exercise to improve the shape of your lower body, a Brazilian Butt Lift might be right for you.
Recovery From Brazilian Butt Lift Surgery
Depending on the amount of fatty tissue transferred and where the donor fat was taken from, you will need to take about 10-14 days recovering from your procedure. It may take some time for any swelling to go down, but before you know it, you will notice your new shape and will want to show off your new silhouette at the beach.
The Brazilian Butt Lift Procedure
Using the fat grafting technique for a BBL surgery produces more natural-looking results with the added benefit of removing excess fat around the midsection to enhance the body-contouring effects of the treatment.   During the procedure, the surgeon will use liposuction to remove fat from the hips, stomach, and thighs. These fat stores are then purified using WAVE's double pure fat grafting process.  The processed fat is then injected into specific areas of the buttocks to create a more rounded, full look.  A compression garment will then be applied to the treatment area.
Brazilian Butt Lift Results
A Brazilian Butt Lift can help you get rid of stubborn fat deposits in your midsection and enhance the tone and shape of your butt.  BBL Surgery helps patients look and feel their best.
Take a look at our Before and After Gallery to see the results for yourself.
Get Your Consultation Today
Give us a call today to schedule a consultation with one of the plastic surgery experts at Wave Plastic Surgery.
Our Brazilian Butt Lift Specialist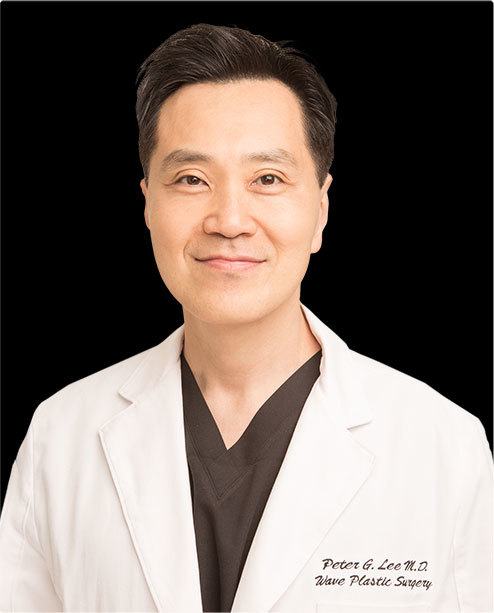 Dr. Peter is CEO and Chief Surgeon of WAVE Plastic Surgery Center with over 20 years of plastic surgery experience, overlooking 30K+ successful plastic surgery cases. He has mentored master surgeons around the world in state-of-the-art techniques, and has been inducted into the RealSelf 100 & 500 Hall of Fame.
His many accolades and shining results are evidence of Peter's expertise.
Subscribe to Receive Exclusive Email Specials
Related Services You May Be Interested In
Rid of stubborn fat wherever it may be — face, hips, abdomen, thighs, or buttocks. Get immediate, lasting results and lose those pounds you've been struggling with.
Tighten and sculpt the body using the power of radio-frequency to deliver amazing results. Remove fat, tighten skin, and even rid of cellulite with a minimally invasive one-time treatment.
Define your feminine contour by adjusting breast volume and shape. We can help you find the right implant type, incision, and placement based on your unique figure and expectations.
Sculptra is a revolutionary facial injectable designed to stimulate your body's own reparative and regenerative processes to restore volume, softness, and elasticity to the face.
Treat stretch marks, acne and acne scars, wrinkles and lines, skin laxity and texture, and hyper-pigmentation with this non-surgical procedure. Morpheus8 technology reaches deep under the skin.