Face and Neck Lifts in Los Angeles, Orange County and San Francisco
Imagine looking in the mirror and seeing a younger more refreshed version of you… What if one procedure could easily remove 10 years of aging?  The Curelift is a revolutionary procedure that can minimize the signs of aging in the face and neck. The CureLift is exclusively available at WAVE Plastic Surgery and is a highly effective alternative to traditional facelifts.
A Better Face and Neck Lift with Curelift
While there have been many attempts on a minimally invasive facelift (like the Lifestyle Lift), WAVE Plastic Surgery is the first to perfect this procedure.
Unlike traditional facelifts, the CureLift is performed under local anesthetic. This means that:
Now is your chance to look young again, and the CureLift is a proven solution that will easily make you look 10 years younger.
Our Satisfied Customer Testimonials
BRANDY C., LOS ALAMITOS, CA
"The staff was so kind and helpful and made me feel so comfortable during my treatment. I was afraid to come to a new place but they were so welcoming and friendly. They explained all of my options perfectly. I couldn't be happier with my results."
TEENA B., OAKLAND, CA
"WAVE is the most awesome of all! From the friendly and caring staff to the qualified surgeons and nurse practitioners, I am always in good hands."
HOÀI T., OXNARD, CA
"I'm always satisfied with the excellent service and the attentive care Dr. Lee and his staff provide. I'm a long time patient at WAVE and I wouldn't want to go anywhere else. I would highly recommend WAVE because you will be very well taken care of; Dr. Lee and his teams of professionals are the best in the field."
FRANCIS Y., BELLEVUE, WA
"Surgery went really good. Everyone was so nice and kind. I am very satisfied with the results."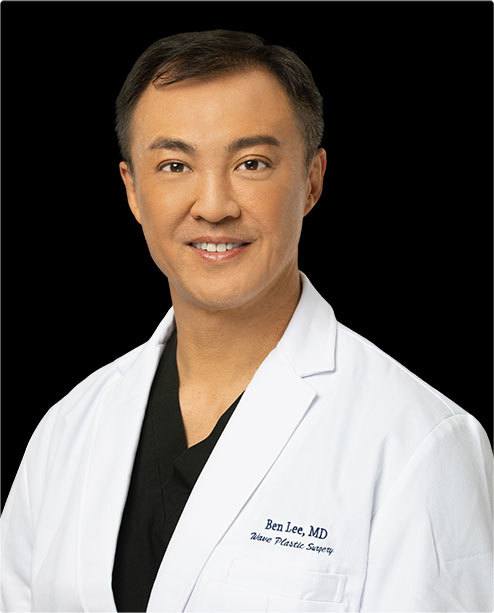 Throughout 20+ years in aesthetic plastic surgery, Dr. Ben Lee has always been passionate about using his skills to impart a lasting, positive impact on the lives of his patients.
"Time and time again, I have witnessed dramatic improvements in a patient's confidence and well-being after a relatively minor cosmetic or reconstructive procedure. As a surgeon, that brings me great joy." — Dr. Ben Lee
Get Your Consultation Today
Give us a call today to schedule a consultation with one of the plastic surgery experts at Wave Plastic Surgery to learn more about the procedure and the thread face lift cost.
Subscribe to Receive Exclusive Email Specials
Related Services You May Be Interested In
Restore volume and target wrinkles with non-surgical fillers and injectables.  Neuromodulators like Botox, Jeuveau, and Dysport can transform your appearance in incredible ways by smoothing fine lines and wrinkles.
The lower eyelid is one of the first places to show the signs of aging.  Lower eyelid surgery is used to treat wrinkles, dark circles, and bags beneath the eyelid.
Restore youthful volume and shape, smoothing away facial lines and wrinkles in a minimally invasive procedure. By taking your own natural fat from places of excess, you can renew youth to the eyes, cheeks, and forehead.
FaceTite and NeckTite are non-surgical procedures that delivers radio-frequency energy deep into the skin. This treatment firms and tightens the skin, stimulates collagen production, and reduces the signs of aging.
Advancements in ultrasound technology allow us to lift and tighten your face for a younger look without the need for surgery. Ultherapy is a new, non-surgical procedure that is called a non-invasive facelift.