Blepharoplasty in LA, SF and Orange County
Asian double eyelid surgery (also known as Asian Blepharoplasty) is one of the most common procedures that we perform at WAVE in our Los Angeles plastic surgery center. Patients of all ages and ethnic backgrounds may be good candidates for traditional double upper eyelid surgery, but the technique and approach will be different for each patient. It is imperative to have a plastic surgery consultation to determine the best technique for you.
Our board-certified oculoplastic surgeons at Wave Plastic Surgery are specialists in both Asian single eyelid and double eyelid surgery. With a growing number of individuals from Asian descent throughout the American community of Southern California, this has been one of our most highly sought after plastic surgery procedures.
Our industry-leading plastic surgeons together have years of combined experience in helping those coming from South Korea and many other Asian cultures. WAVE helps these men and women discover new anti-aging standards of beauty and to achieve their aesthetic goals.
How Does Asian Double Eyelid Surgery Work?
The goal of this specialized upper Blepharoplasty procedure is not to make the eyes appear more youthful, but to accentuate the eyes by giving them a wider, more open appearance.
This procedure is performed by making a discrete incision along the upper lid and manipulating the eyelid skin and underlying tissues to form the eyelid crease. Your Asian double eyelid surgery can be safely done under IV sedation with local anesthesia to help make you remain comfortable, but also awake enough to cooperate during your surgery to determine the desired outcome of the upper eyelid fold. This is the best way for our plastic surgeons to make sure that the shape and size of your eyes remain symmetrical.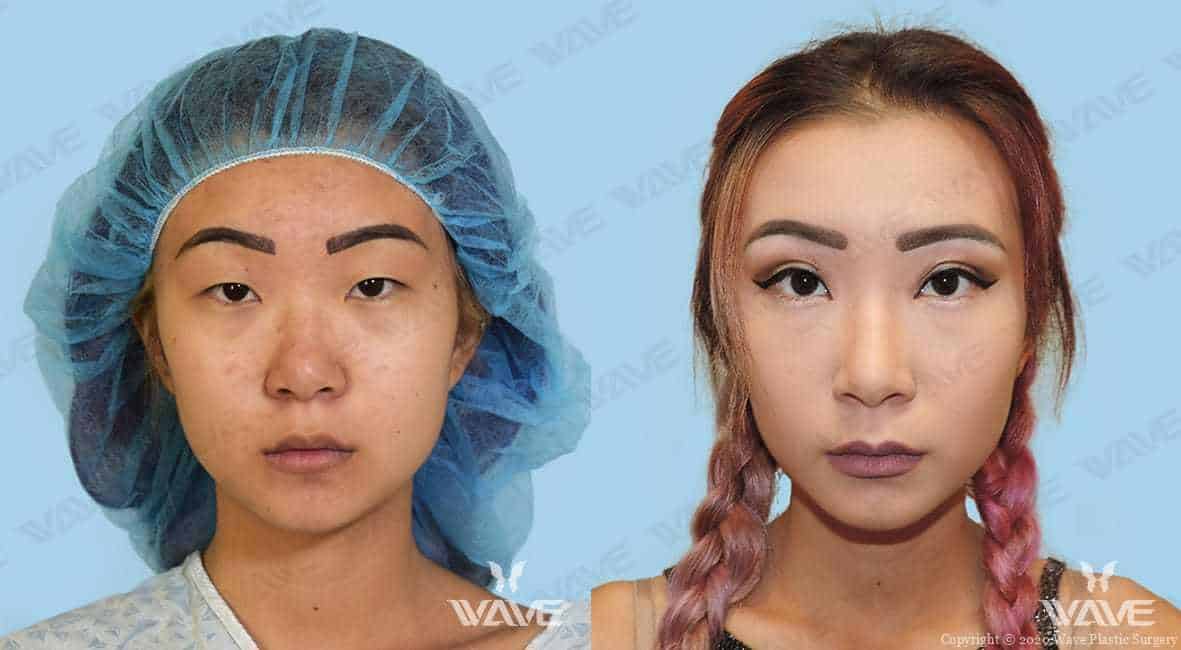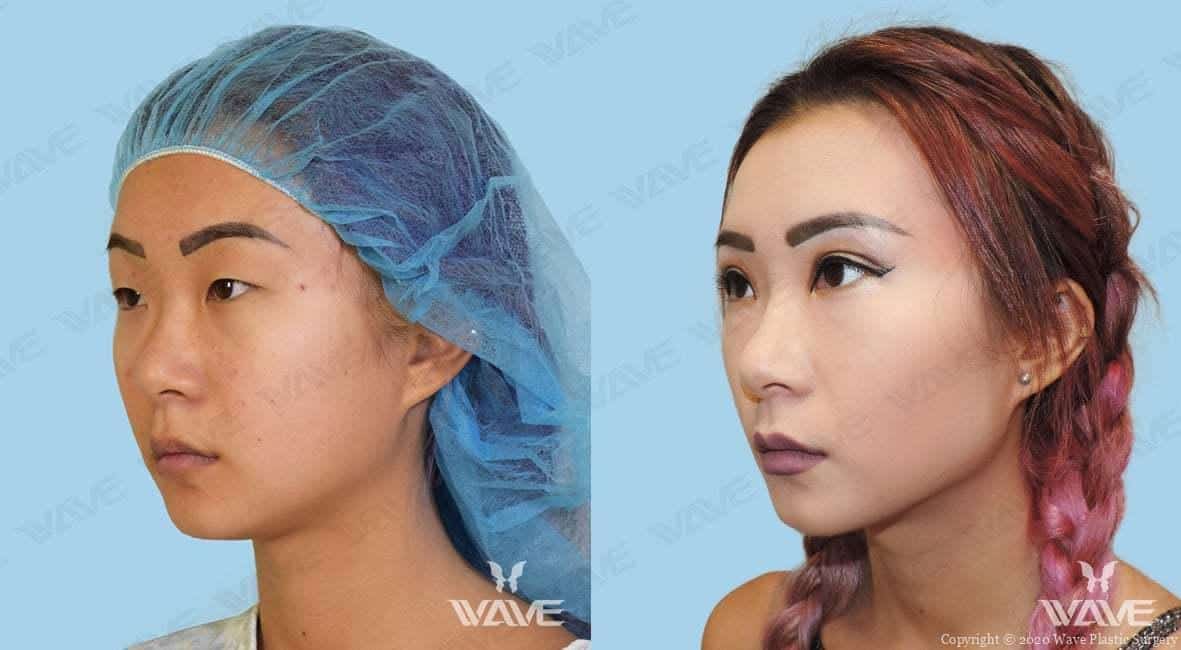 There are two primary techniques used to transform a single eyelid crease, or "monolid," into a double eyelid. These techniques are the Suture Method and the Full Incision Method. During a consultation, you and one of our expert Plastic Surgeons will decide which method will be the best fit for your desired appearance.
The Suture method uses permanent sutures, as opposed to surgical incisions. During this procedure, a surgeon that has been trained in cosmetic surgery uses a thin, permanent suture to create a double crease in the upper eyelid.
This technique doesn't require any excess skin removal and doesn't leave any scars. Because it is less invasive, this method takes less time to perform and has a faster recovery time.
During this procedure, your surgeon will create a discreet incision in the upper eyelid crease to create a double fold. Sagging skin and fat will be removed in order to form a natural-looking crease with ultra-thin sutures.
Because these incisions are made on the aesthetically created creases of the eyelid, scarring is typically very minimal and almost impossible to notice. The skin of the eyelid is so thin that healing time is remarkably quick and patients often experience a speedy recovery.
Complementary Eyelid Procedures
The Asian double eyelid surgical procedure is often combined with complementary procedures to achieve the eye shape and size that the patient desires. The inner and outer portion of the eye can be targeted to create a larger, more vibrant look.
This procedure focusses on the corner of the eye near the nose. By shaping and contouring the inner corner of the eyes, a Medial Epicanthoplasty makes the eyes look longer and more almond-shaped. It is often paired with Asian Blepharoplasty to give the eyes a rounder, clearer appearance.
A Lateral Canthoplasty is a lower eyelid procedure that focusses on the outer corners of the eyes. This procedure opens up the outside corners of the eyes to make them look bigger and longer. When incisions for double eyelid surgery are paired with a Canthoplasty, the combination helps augment the shape and angle of the eyes.
Is Blepharoplasty right For You?
Asian Double Eyelid Surgery, aka Blepharoplasty, is the most popular of all facial cosmetic surgeries performed on Asian patients. We believe that there are several aspects of upper eyelid surgery for younger patients to consider when determining if they are right for this procedure. Some of these determining factors include:
Asian Double Eyelid surgery results on a real WAVE Patient. See more on our Before & After gallery!
If you have wanted a change in the look of your eyes, you may be a prime candidate for our popular Asian Blepharoplasty procedure. Not all plastic surgeons are trained in this specific form of eyelid surgery, and going to a newer and inexperienced practice can result in a look far different than what you had wanted.
Our doctors all understand the goal of Asian eyelid surgery and have years of experience working with east Asian patients, as well as all other sorts of Asian backgrounds, including those from China and South Korea. Talk with us today about your procedure.
Call Us at 888-674-3001 or Get A Consultation below:
Frequently Asked Questions About Eyelid Surgery

Give us a call today to schedule your Eyelid Surgery consultation with one of our plastic surgeons at Wave Plastic Surgery.
Subscribe to Receive Exclusive Email Specials
Related Services You May Be Interested In