Globally Renowned Anti-Aging Experts
Jaw Reduction in Los Angeles, Orange County and San Francisco
Your jaw bone shapes your face, providing a frame for the rest of your features. If you are uncomfortable with its appearance because it is too large or protrudes differently, you can achieve the look that you want with jaw reduction surgery.
A jaw, or mandible, reduction is used to narrow the lower third of the face—particularly the contribution from the mandible and its muscular attachments. There are several techniques that our Los Angeles plastic surgeons may use for your treatment—including surgical and non-surgical methods.
How does Mandible Reduction Surgery work?
A well contoured, defined jawline contributes greatly to the perception of an attractive face. However, there is variability to what is considered ideal. A prominent jaw and lower third of the face is generally considered a masculine shape.
Many women seek a more angular, V-shape to the lower face, giving a slimmer and more delicate contour. To achieve this, the soft tissue and bony components must be addressed.
Techniques to reduce the soft tissue fullness are limited and include liposuction of the fatty component, and neuromodulators (botulinum toxin) to reduce the masseter muscle. More dramatic reduction requires removal of bone.
To reduce the size of the jaw line, the bone is carefully filed down and a portion of the muscle is removed. The muscle will still function properly, but the fullness will be decreased. This will create a more oval-shaped jaw line with a softer and smoother angle.
At consultation, the patient is examined and Xrays or CT scans may be obtained to aid in the assessment.  The size of the mandible angle, masseter muscle and the overall structure of the jaw are evaluated. Based on the analysis and face-to-face consultation, the surgery plan can be created to produce the desired aesthetic results.
Surgical techniques are used to directly reduce the size of an enlarged mandible. Your incision can be made on the inside or outside of the mouth, though the internal incision is the most common because it leaves no visible scar. A burr is used to remove the outer layer of the enlarged mandible, narrowing the jaw.
The surgery is performed under general anesthesia with intubation to secure the airway. The standard surgical procedure uses an external or intraoral approach, and often a combination of both. After exposing the excess bone, the amount of one resection is marked and removed with either an oscillating saw or a surgical burr. The patient is then discharged home after a brief stay in the recovery room.
Patients typically have minor discomfort as the incisions heal for a few days. Swelling can typically last for a couple of weeks, but most patients can return to work after a week. The final results can take up to 3-6 months to manifest, although a noticeable difference can be seen within days as swelling subsides.
Get Your Consultation Today
Give us a call today to schedule a consultation with one of the plastic surgery experts at Wave Plastic Surgery.
Non-Surgical Mandible Reduction
Non-surgical techniques are essentially limited to cases in which the masseter is enlarged. A convenient method to treat an enlarged muscle is through the use of Botox injections.
Botox is injected into the enlarged muscle, weakening it so it slowly becomes smaller through atrophy over the course of several months. There is no downtime with this non-surgical approach and improvement is gradual—nobody will notice that you have had Botox treatments performed.
Our Mandible Reduction Specialist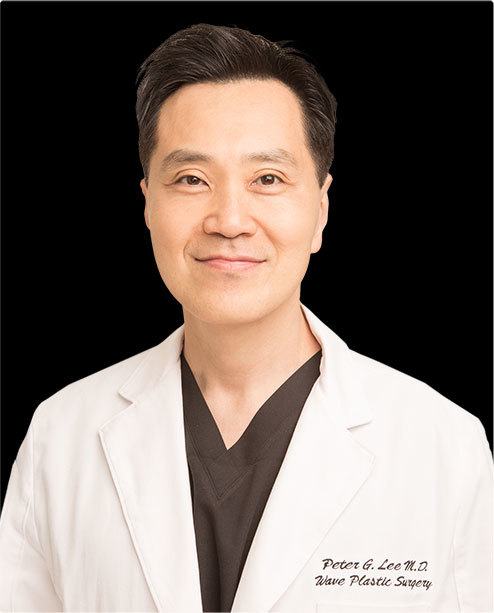 Dr. Peter is CEO and Chief Surgeon of WAVE Plastic Surgery Center with over 20 years of plastic surgery experience, overlooking 30K+ successful plastic surgery cases. He has mentored master surgeons around the world in state-of-the-art techniques, and has been inducted into the RealSelf 100 & 500 Hall of Fame.
His many accolades and shining results are evidence of Peter's expertise.
Subscribe to Receive Exclusive Email Specials
Related Services You May Be Interested In
Renew youth and firmness to your face with any of our four long-lasting face lift procedures that best suites you. Avoid the "windblown" look while ridding of wrinkles and lines, sagging cheeks, and tone loss.
Give your nose a beautiful look, bringing harmony to the rest of your facial appearance. Wave's Asian Rhinoplasty surgeons can augment and define the dorsum and tip of the nose, providing natural looking results for the Asian American Community.
Resize or reshape the chin to obtain a more balanced facial appearance, addressing issues such as a recessed or sagging chin. Achieve symmetry and harmony of the entire facial profile through a defined chin.
Restore youthful volume and shape, smoothing away facial lines and wrinkles in a minimally invasive procedure. By taking your own natural fat from places of excess, you can renew youth to the eyes, cheeks, and forehead.
Accentuate the eyes by giving them a wider and more open appearance. Create that double fold in the upper eyelid using ultra-thin sutures and/or discreet incisions that leave virtually no scars behind.