Globally Renowned Anti-Aging Experts
Facelift in San Francisco:
Get Expert Advice for Transformative Facelift Results
Of the many anti-aging methods available today, one of the most tried and true is a facelift. Wave Plastic Surgery procedures bring out our patients' natural youth and radiance, from full facelifts to targeted touch-ups. Our state-of-the-art technology, highly sought-after surgeons, and innovative techniques (some exclusive to Wave Plastic Surgery) make us a destination for facelifts in San Francisco.
Subscribe to Receive Exclusive Email Specials
Facelift in San Francisco: A Brief Guide
When getting a facelift, San Francisco, CA offers various types, surgeons, and price points to consider. So we've compiled this brief guide to fully inform you before you make your decision.
San Francisco Facelifts: Understanding Different Types of Facelift Procedures
The landscape of cosmetic surgery offers a range of options. Among them, facelift procedures are a prominent choice. In this insightful guide, we delve into the diverse tapestry of facelift techniques, uncovering the nuances that distinguish them and the transformative effects they can achieve.
Our surgical facelift options at Wave Plastic Surgery include: 
The following procedures, exclusively available at Wave Plastic Surgery, have the option for local anesthetic:

A facelift and a mini facelift result in a more youthful-looking face. However, a facelift is more comprehensive, with incisions in the hairline and around the ear. A mini facelift is less invasive, with only small incisions around the ear, where they can be easily hidden. Expect shorter recovery times with mini facelifts in San Francisco.
Choosing the Best Facelift Surgeon in San Francisco
If you're on a mission to get the best facelift in San Francisco, Wave Plastic Surgery surgeons are here to answer the call. 

Peter G. Lee (M.D., F.A.C.S.), Ben Lee (M.D., F.A.C.S.), Denise Wong (M.D., F.A.C.S.), and Jonathon Shifren (M.D.) have learned their craft at some of the nation's most prestigious institutions, including Harvard, Yale, Stanford, Duke, University of Chicago, and the University of California San Francisco. Dr. Ben Lee and Dr. Peter Lee specialize in facelift procedures, each with over twenty years of plastic surgery experience.
Factors Affecting Facelift Cost in San Francisco
You will find many options at varying prices when researching where to get a facelift. We always recommend our patients consider factors other than price. We use cutting-edge technology and services to deliver safe and effective results. At Wave Plastic Surgery, the total cost is determined by your chosen procedure, payment plan, and any available specials.
We don't want cost to be a barrier when paying out of pocket for cosmetic procedures. Pay 0% APR for twelve or twenty-four months with our payment plan, no matter your chosen procedure. Additionally, WAVE's VIPs receive bonus discounts and exclusive promotions. Schedule a consultation today to determine the best approach based on results and budget.
The Facelift Procedure: What to Expect
For procedures in San Francisco, facelift surgeons at Wave Plastic Surgery offer customized plans for your needs. You'll discuss the best method to achieve your goals at the consultation. You may opt for surgery with general or local anesthesia. You will also discuss how to prepare and recover from your chosen procedure.
Each procedure is different, and every face is unique. Generally, allow a 2-3 week recovery period after a facelift. The surgery will take about three hours, with six follow-up appointments to check the healing process. You can expect to be recovered from a mini facelift in 7-10 days.
Achieving Natural Results: Best Facelift Practices in San Francisco
On a quest for the best facelift? San Francisco surgeons like Dr. Peter Lee and Dr. Ben Lee allow the shape and contours of the face to dictate the proper procedure for each patient. 
That's the trick to making facial fat removal, fat repositioning, and tissue tightening look completely natural. Best practices include advising patients to follow aftercare instructions and schedule follow-up appointments.
Get Your Consultation Today
Give us a call today to schedule your consultation with one of our plastic surgeons at Wave Plastic Surgery.
Non-Surgical Facelift Options in San Francisco
Wave Plastic Surgery offers medical-grade peels and facials, skin tightening and rejuvenation procedures, injectables, and other skincare-focused solutions for those seeking a non-surgical facelift in San Francisco. These non-surgical options are perfect for patients who want a tighter, more youthful face but don't want to commit to surgery.
Get a personalized liquid facelift with injections such as Jeuveau (also known as Newtox), Sculptra, or both! Jeuveau is a neuromodulator that simultaneously softens and lifts the face. It is typically used around the forehead, eyes, mouth, and neck to combat fine lines and wrinkles.
Sculptra revives the body's natural regenerative ability to restore volume and elasticity by stimulating collagen production. It's the ultimate secret weapon to defeating wrinkles around the mouth. It can also add volume where it's needed to create a more symmetrical look.
Benefits and Limitations of Non-Invasive Facelift Procedures
Non-surgical facelifts will be preferable for patients seeking less invasive procedures. Whether you have medical reasons not to go under the knife or simply prefer not to, non-surgical options have a much quicker recovery time. The less invasive mini facelift also boasts a short recovery of as few as seven days.
However, there are some limitations to minimally invasive procedures. Results will be less dramatic. Some solutions are topical, focusing only on skin health. Injectables can change the contour and shape of the face, making it look youthful and radiant. However, these procedures don't lift muscle, tissue, or fat or remove excess skin.
Your cosmetic choices are your own. We will go over all the benefits and limitations during your consultation.
Enhancing Results: Complementary Procedures
Some patients decide to get additional work done alongside a facelift. During your consultation, your doctor can discuss whether you could be a good candidate for other surgical body-enhancing procedures, such as liposuction, a breast lift, or breast augmentation. Some nonsurgical skin rejuvenation procedures may also complement a surgical facelift after the procedure is performed.
Facelift San Francisco: Before and After Care
There are three phases in getting a surgical facelift: preparation, surgery, and aftercare. Two of those phases are the patient's responsibility. To prepare, make sure you have the support you will need post-op:
Arrange for someone to drive you to and from the surgery.

Ensure insurance and medications are up to date.

Plan to take time off from work and exercise for 2-3 weeks after the procedure. 

Ensure your medications do not conflict with those needed for post-op care. 
Taking these steps will ensure a smooth post-op experience.
Offer Post-Operative Care Tips to Ensure Smooth Recovery and Optimal Results
Taking care of yourself is essential for a swift recovery. In addition to specific guidance from your doctor, keep incision areas clean during post-op.
Know that any bruising and swelling will dissipate over time. While your new and improved appearance might not be apparent immediately, know that your more youthful face will be there waiting for you once the swelling goes down.
Drink plenty of water, and remember that sleep is when the body naturally rejuvenates itself. It is generally best to rest but keep some blood flow by not being completely sedentary. Following these care tips will ensure optimal results and may lessen recovery time.
Advice on Maintaining Long-Term Facelift Results
Gravity is a mighty force of nature, so it's normal for even the best facelifts to benefit from surgical or non-surgical touch-ups. But to lengthen the effect of your facelift, you can take steps to maintain your new glow.
It helps to protect your skin from the sun, hydrate, exfoliate, moisturize, and eat anti-inflammatory foods. You may also find injectables excellent for maintaining fullness and skin elasticity.
Get Stunning Results From a Facelift in San Francisco with Wave Plastic Surgery
Patients who opt for facelift surgery in San Francisco or at any of Wave Plastic Surgery's California office locations enjoy genuinely transformative results. Elevated confidence tends to follow when you invest in a more youthful glow.
Experience compassionate care and exceptional results. Schedule your facelift SF consultation at our luxurious downtown office with one of our globally renowned anti-aging experts.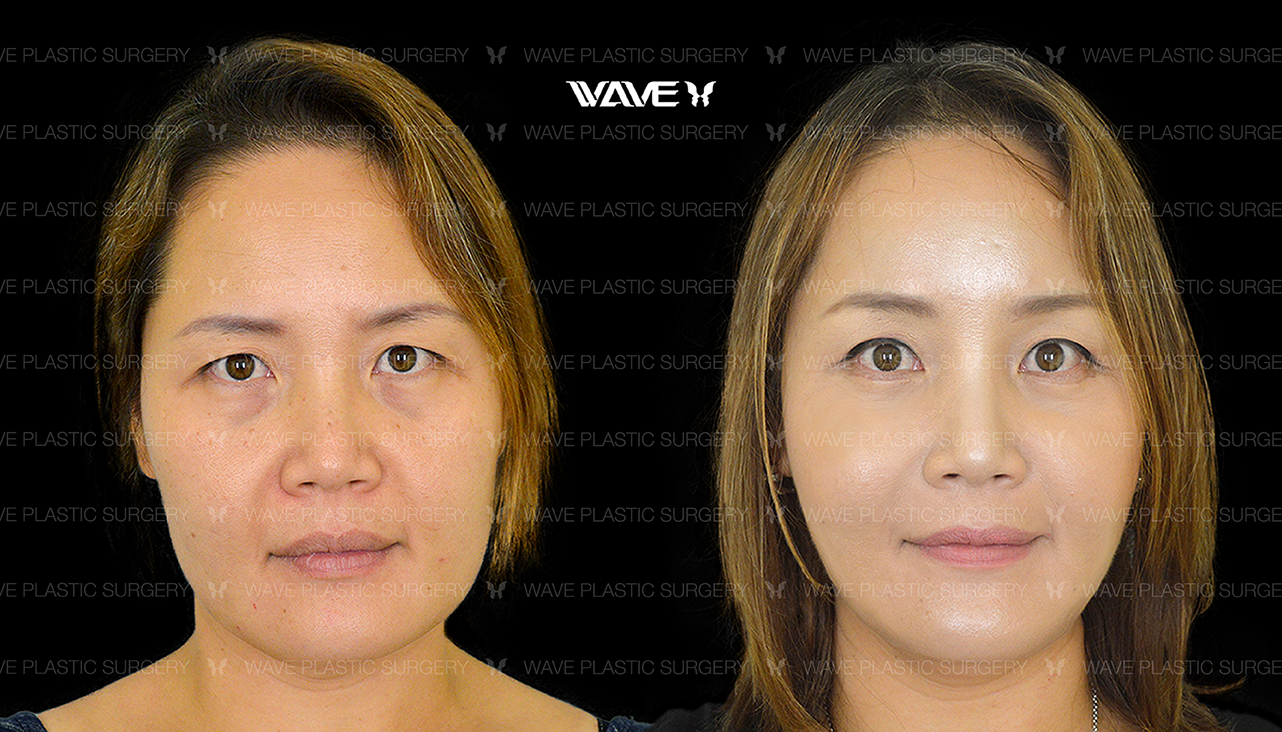 Are you contemplating a facelift but are concerned about the price tag? You're not alone. The cost is a common worry for many, often looming …
In 2020, there were 234,374 Rhytidectomy (facelift) procedures performed, according to the American Society of Plastic Surgeons. While individuals experience immediate and drastic results with …
Worldwide, many individuals are affected by their appearance, particularly when it comes to the face. As we age, the skin might become wrinkled or sag. …
Related Services You May Be Interested In
Restore volume and target wrinkles with non-surgical fillers and injectables.  Neuromodulators like Botox, Jeuveau, and Dysport can transform your appearance in incredible ways by smoothing fine lines and wrinkles.
The lower eyelid is one of the first places to show the signs of aging.  Lower eyelid surgery is used to treat wrinkles, dark circles, and bags beneath the eyelid.
Restore youthful volume and shape, smoothing away facial lines and wrinkles in a minimally invasive procedure. By taking your own natural fat from places of excess, you can renew youth to the eyes, cheeks, and forehead.
FaceTite and NeckTite are non-surgical procedures that delivers radio-frequency energy deep into the skin. This treatment firms and tightens the skin, stimulates collagen production, and reduces the signs of aging.
Advancements in ultrasound technology allow us to lift and tighten your face for a younger look without the need for surgery. Ultherapy is a new, non-surgical procedure that is called a non-invasive facelift.