Globally Renowned Anti-Aging Experts
SmartLipo in Los Angeles, Orange County and San Francisco
If diet and exercise aren't working to get rid of fat, SmartLipo can. SmartLipo is a less invasive alternative to traditional liposuction that uses laser energy to literally melt fat for easier removal. Your problems with love handles, muffin tops and even jowls can be finally put to an end using the SmartLipo procedure.
Is Smartlipo™ Right for Me?
You don't have to continue wearing a t-shirt over your bathing suit because of unwanted fat you don't want everyone at the beach to be eyeing. Struggling with excess fat can be uncomfortable, both physically and emotionally – and if you've been hitting the gym and eating right without much of an improvement, it can also be extremely frustrating and discouraging.
SmartLipo is a way to refine your contours and get rid of annoying areas of fat when a healthy lifestyle is not enough on its own. This laser-assisted liposuction procedure not only removes fat with an easier recovery time than traditional liposuction, it also actually works to tighten your skin in the process. This means there is no having to worry about sagging skin or dimples left behind after your SmartLipo treatment.
You may be a good candidate for SmartLipo if you are already living a healthy lifestyle, but are having problems losing fat from certain areas of your body. You must already be at a stable weight and should be ready to continue making healthy choices after your procedure.
SmartLipo can be used to treat the following problem areas:
With a faster healing process than traditional liposuction, you will be able to return to work in as little as two days. Although, you may be tempted to take a little more time off to enjoy the California coast with your new body. In just a few days, you will notice a thinner figure and firmer skin.
How Does Smartlipo™ Work?
Much like traditional liposuction, a cannula is inserted into the layer of fat through small incisions made in the skin. However, SmartLipo uses three different laser energy wavelengths to melt fat so it is more easily removed from the body. The gentler process allows for a shorter recovery time and less pain after the procedure. The laser energy used in SmartLipo also works to tighten skin so you aren't left with any sagging or dimpling once the fat is removed.
Get Your Consultation Today
Give us a call today to schedule a consultation with one of the plastic surgery experts at Wave Plastic Surgery.
Subscribe to Receive Exclusive Email Specials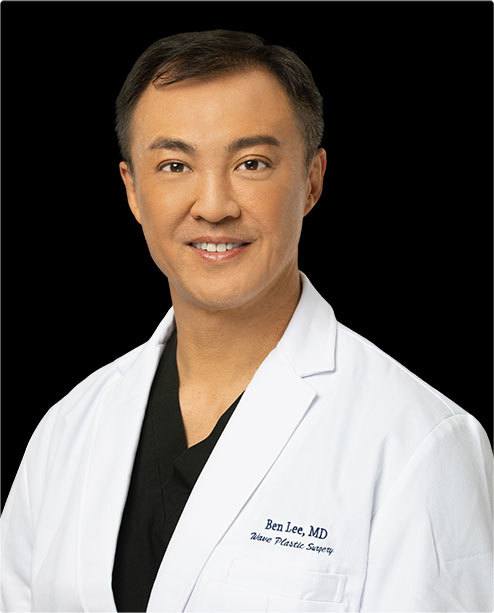 Throughout 20+ years in aesthetic plastic surgery, Dr. Ben Lee has always been passionate about using his skills to impart a lasting, positive impact on the lives of his patients.
"Time and time again, I have witnessed dramatic improvements in a patient's confidence and well-being after a relatively minor cosmetic or reconstructive procedure. As a surgeon, that brings me great joy." — Dr. Ben Lee
Related Services You May Be Interested In
Enhance and reshape your behind, moving excess fat from unwanted areas to your buttocks. The result is a natural-looking, round, and firm booty.
Define your feminine contour by adjusting breast volume and shape. We can help you find the right implant type, incision, and placement based on your unique figure and expectations.
Achieve vaginal rejuvenation without a surgical procedure with Votiva or Viveve treatments. Address urinary incontinence, sexual arousal, vaginal lubrication, vaginal laxity, loss of tone, and tighten vaginal walls.
Achieve a more balanced labia and toned vaginal structure, improving size, shape, and symmetry. Address urinary incontinence, restore tightness, enhance sexual satisfaction, and improve sexual experience.